Chelsea beats Manchester United 1-0 to win the FA Cup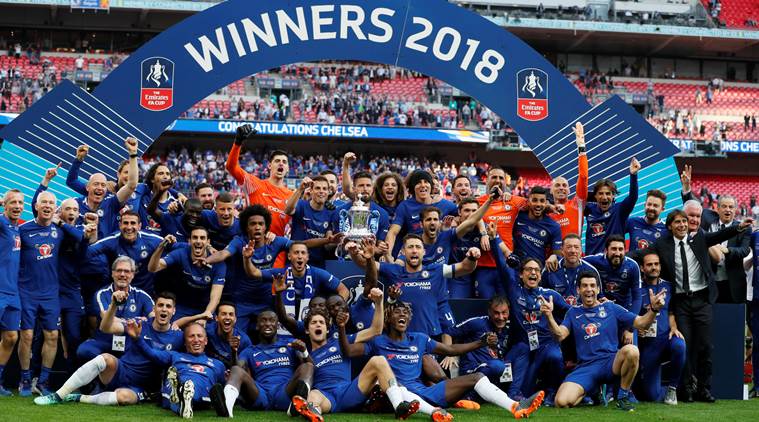 The Blues withstood a second-half onslaught from United after Hazard's 22nd-minute spot-kick to secure the FA cup title.
On a day when the world's eyes were on a royal wedding 18 miles west in Windsor, Chelsea reigned on the field to salvage a campaign in which they failed to even qualify for the Champions League after finishing fifth in the Premier League.
Chelsea captain Gary Cahill hailed the win as a "dream come true".
"You can see what it means to us, the staff, the fans," he told the BBC.
"This was to save our season. Not in an arrogant way but we have to try and win things.
"That's two in two, a league title and an FA Cup." Jose Mourinho's United were dismal in a scrappy first half and although they improved significantly after the break they were denied a record-equalling 13th FA Cup triumph and ended the season without a trophy.
Chelsea, whose Premier League title defence fizzled out into a fifth-placed finish, survived several scares but they defended superbly as Conte celebrated his first domestic cup honour as a manager having seen his side beaten by Arsenal a year ago.
It was only Mourinho's third defeat in 15 Cup finals as a manager. The win left Mourinho's men end the season trophyless.
Mourinho said he was doing his duty as a sportsman by congratulating Chelsea's players and staff for their triumph — but the Portuguese thought his United side should have lifted the trophy.
"I congratulated them because they won but I don't think they deserved to win," he said.
"I congratulated them because I am a sportsman. They scored one more goal than us and they got the cup and so I've got to do what my job asks me to do."
"I'm the Manchester United manager and I have to be respectful, not just because they were my previous club but because they were the opponent that won the cup."
"I think we deserved to win, I think we were the best team, but that's football."